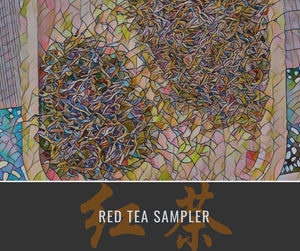 Red Summer - Red Tea Sampler
One River Tea
Regular price $40.00 Sale
We have been long overdue to put out a new red tea sampler. You've asked for it and here it is: five delicious and unique red teas from China and Laos. This sampler includes three classic entries and two teas not currently not available on the website. All of these teas are well suited to both gongfu brewing sessions or summertime sun tea, or cold brewed ice tea.  In total, the box contain 100 grams of high quality Chinese tea sourced directly from the makers. Here's the line up: 
Unsmoked Lapsang (20 grams)
Laotian Red Tea (20 grams)
Othodox Dianhong (20 grams)
Lichuanhong (20 grams)
Old Path Yihong (20 grams)
Unsmoked Lapsang
Made from old bush leaves in the "new" production method (without smoke) the natural spicy sweetness of this tea shines through. When warmed, the leaves smell like cinnamon stewed fruit with other mulling pieces in the mix. The brew is a rich amber, and the mouthfeel is thick and comfortable. Despite the updated production method, Lapang like this is highly regarded and valued in China, especially since it is sourced from Tongmuguan. It is still very much the OG red tea in China that all other red teas are derived from.
 Laotian Red Tea & Othodox Dianhong 
Just like grapes, apples, mushrooms, and an assortment of other agricultural products, the wild mountainous terrain of Yunnan have become famous for delivering edible goods that are equal parts affordable and quality. Tea is no exception. The Dianhong style of tea which started in the 1930's as a replication of the export-oriented tea that was being produced in Hubei and Sichuan, has now become as much of a staple of the Chinese tea market as Puer. The characteristically large leaves, usually picked from mature trees, offer a uniquely arboreal flavor. Orthodox Dianhong today now usually seeks to deliver sweetness and a milder level of oxidization at a low-low price. Our Dianhong is exactly that, and produced from old growth trees. By contrast our Laotian Red tea is a recent, somewhat experimental product that has been inspired by Dianhong. It is rougher in flavor and appearance, but also captures that nice woody almost cedar flavor in a way that some Dianhong's do not always deliver.
 Lichuanhong & Old Path Yihong
Yihong was one of the first red teas outside of Fujian to be produced on a commercial scale outside of Fujian. These two Hubei red teas are sourced from Lichuan and Hefeng, two counties that can truthfully say they have been producing Yihong for at least one hundred year. Just as Dianhong copied Yihong, Yihong in turn was an imitation of Lapsang. It was never smoked, but it was heavily oxidized and cut just like the Fujian original. That old style of Yihong largely died with state-owned tea factories in Enshi and Yichang in the 1990's. Lichuanhong and Old Path Yihong are two independent re-imaginations of Yihong. The former uses a specialized cultivar derived from past generations of Yihong production, but it abandons completely the traditional production method; Old Path Yihong is the exact opposite. It uses cultivars that had nothing to do with the historic Yihong, but does follow the traditional production method, albeit tending towards a lighter oxidation.