Between January 1st and June 30th some 9370 RMB was set aside via our profit sharing scheme. This money will be divided among the respective producers before the end of the year (December 31st, 2021). Provided that there is positive feedback from the farmers involved and sufficient recovery of sales in Fall and Winter, we can try again next Spring and see how much can be raised.
For the second half of the year, as sales have slumped for all products, we will be shifting the Solidarity Trust efforts into a project-based approach. At Loushuiyuan's labor-starved tea cooperative, we have paid out of pocket to restore an unoccupied Tujia traditional home and the accompanying tea plot. As part of an Chinese government initiative, "Youth Journey to Build Red Dreams,"  we have been further enabled by public financial support and official recognition in making the house ready for a small group of foreign tourists in August and September of this year. This is the beginning of a long term project with Loushuiyuan. We hope that the money and labor we put into our tea plot and house can bring consistent revenue and tourism to the cooperative and village over all.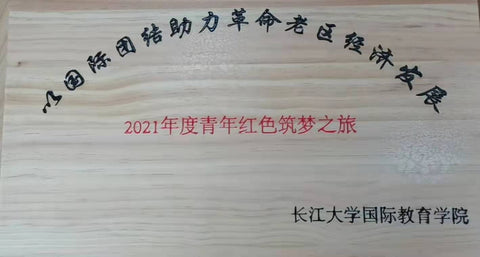 (Placard of ORT's "Youth Journey to Build Red Dreams" Project)
Additionally, we have just made our website ready for Chinese payment methods and will be launching an additional project focused on China-Lao tea trade. The basic premise of this project is to make it easier for Lao farmers to learn more about Chinese tea processing skills and the Chinese language, so that they can achieve more favorable outcomes in the Chinese-Lao tea trade. Chinese customers will be financing this outreach and we hope that the revenue earned will be enough to allow Chinese activists to take part more directly in this engagement. Follow our Chinese social media account on Bilibili for more information on this project.