Yue Chao - Jingdezhen Porcelain Artist
Yue Chao was born in 1985 and studies ceramics in University in China.  He started his own artist studios in 2010 in order to further explore the relationship between fine jingdezhen pottery techniques and the more random ways in which wood ash can affect natural glazes when produced in wood-fired kilns.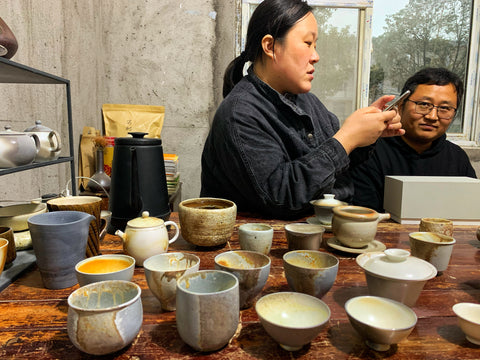 We first visited his studio Jingdezhen city in November of 2019.  His studio is in form a gutted apartment with concrete walls and flooring wherein he and his wife produce tea cups, gaiwans, tea bowls, tea pots, small flower vases, and more tea-oriented ceramics.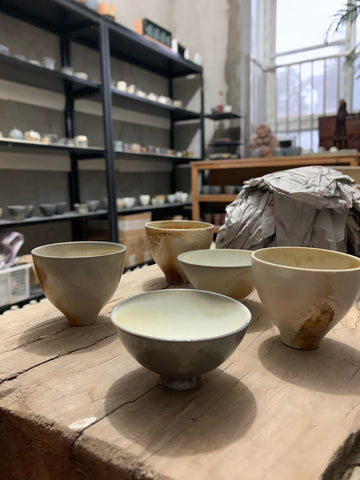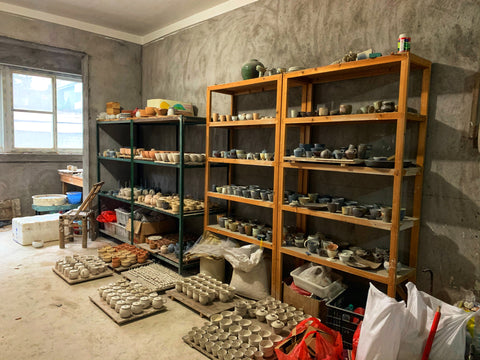 He and his wife have another workshop in the mountains outside of the city proper which is also home to their wood-fired kiln.  They make and fire all the pieces themselves, and we hope to see some of this process when we return to restock on ceramics in 2021.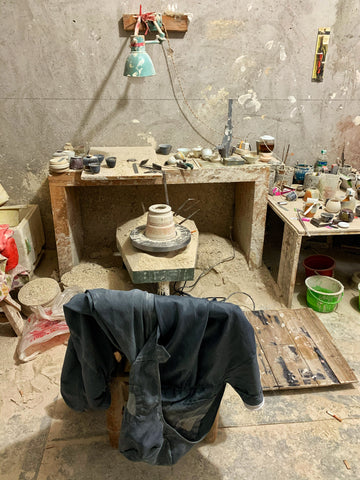 In 2019 we purchased a few of the 'misfit' pieces from his workshop.  These pieces had minor defects that Yue was not comfortable selling for their full price, however, we found these minor imperfections charming and bought a handful for personal use and to gift friends.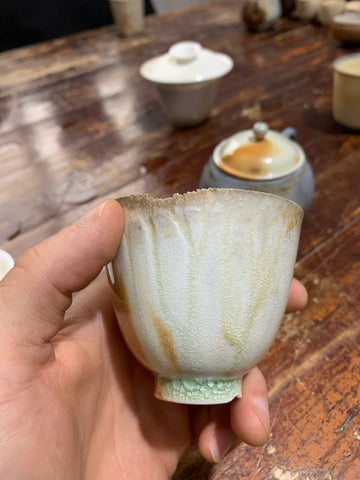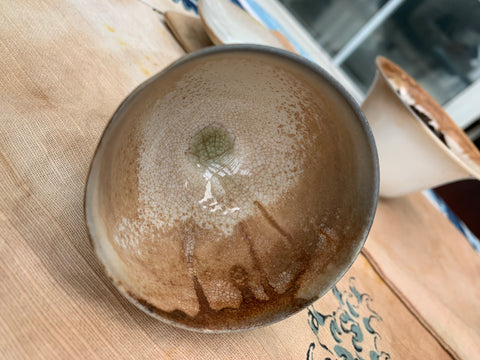 In 2020 we bought the remainder of these pieces and noticed that their defects are hardly noticeable, a small chip on the base of the cup where it was removed from the kiln or from the wheel, a slight thinness to one side of the cup, groves made deep by runnels of glaze.  These pieces to us are all the more unique for their idiosyncrasies.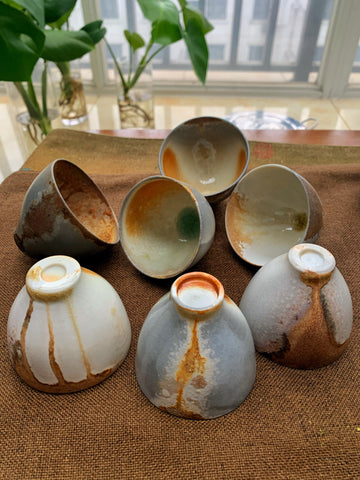 Below is the formal Artist's Statement (in Chinese):
岳超 男 汉族 1985年10月15日
中央美术学院城市设计学院本科毕业
中国工艺美术师家协会高级工艺美术师 ,2010年创立个人工作室 从事柴烧研发与制作至今。
作品简介 :作品采用当代柴烧工艺,借助木柴燃烧过程中产生的灰烬伴随火势像雨点般附着于坯体表面,当温度达到草木灰熔点时与泥土发生化学反应,形成天然釉面。胎土,窑火,落灰三者相互交融而呈现出一种质朴,浑厚、古雅的美,这种表现力完全得自于大自然的馈赠。