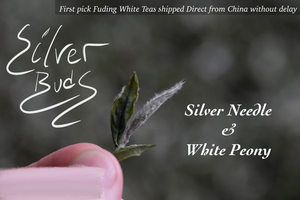 Silver Buds: A White Tea Collection
One River Tea
Regular price $60.00 $55.00 Sale
**This is a Presale product for the earliest picks of Fuding White Tea from 2023.  Any boxes purchased will be sent out with the
First Pick: Green Tea Collection
on April 5th.**
White Tea is often considered the rarest and most elegant of all tea types in China.  There are many reasons for this, one is the very early bud-exclusive picks prized by tea conneusuers, the other is the natural sundering and traditional processing behind these teas.  These pristine white teas have all been hand picked, naturally sun-dried, and charcoal baked in traditional bamboo baskets in late March and early April, and will soon be available to be shipped worldwide.
Silver needle is harvested before mingqian dates for green tea (April 4th), as the tea comprised almost exclusively thick furry tea buds.  White peony has three main grades: King Peony (picked a few days after silver needle season ends), Exceptional Peony (consisting primarily of one bud and one to two small leaves), and White Peony (any production thereafter until harvest ends in May).  
Between March 7th and March 20th, the box will be available for $45, while after March 20th, the price will rise to $55.  After April 1st, the remaining boxes will be available as supplies last at the full price of $60.
In the set:
30g Silver Needle 2023 Spring
30g King White Peony 2023 Spring
While these are some of the earlier picks of white tea available on the western market, their flavor profile is not necessarily delicate.  While the fresh Silver Needle provides notes of sweet grass and baked cake, there is an unmistakable savoriness which comes out when brewed with boiling water.  The Mudan Wang on the other hand is a full gale of spring flavors tied together with a deep huigan, a thick golden liquor, and a savoriness fit to match any umami-rich green tea.
Our One River White Tea selections all come from a beautiful garden in the costal and mountainous village of Panxi, located inland of from Fuding proper.  This is one of the three main villages to produce Fuding White Tea, and while the others (Taimushan, Diantou) have a longer history of tea production, the dedication of Panxi farmers, and the purity of the land cause most tea connoisseur in China to believe that the best white teas come from Panxi.   
We recommend brewing 6-7 grams of tea in a 3-4 ounce gaiwan with water right off the boil, though we also suggest experimenting with cooler temperatures to bring out more texture in the mouthfeel of these white teas.
All these teas were sourced from Qiu and his incredible collection of meticulously curated white teas!  Check out more of Qiu's white teas and read up on your general Fuding white tea knowledge